EDward Gaming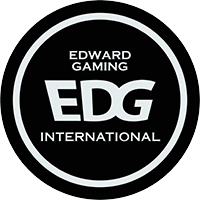 EDward Gaming China Rank #1 ZmjjKK Yongkang Zheng (郑永康) nobody Sen Xu Wang (王森旭) CHICHOO Shun Zhi Wan (万顺治) Smoggy Zhao Zheng (张钊) Haodong Hao Dong Guo (郭浩东) and KONE eSC
KONE eSC Inactive sword9 Li Wei (李卫) Yosemite Lei Wang Knight Yuxiang Liu Ninebody Yi Ding LuoK1ng Zhang Zhan Peng (张展鹏) have qualified as the Chinese representatives for the East Asia Last Chance Qualifier in August.
Edward Gaming qualified after beating Tales of Eastern
Tales of Eastern China Rank #3 whz Yuk1no yeoj Allan AAK miracle in the FGC Valorant Invitational: Act 3 upper semifinal match, guaranteeing them a minimum of 320 points, which were enough to secure their LCQ slot.
Meanwhile, after losing to Edward Gaming in the upper final, KONE faced FunPlus Phoenix ZHUQUE
FunPlus Phoenix ZHUQUE China Rank #5 AAAAY Obito misfoRtune Zhang Bolin (張柏霖) YuChEn Yuicaw nizhaoTZH Tang Zhe Hao (唐哲昊) in the lower final. KONE easily dispatched them in a 3-0 victory that net them a total of at least 315 points and the second slot.
The two teams will be the first Chinese teams to participate in an official Valorant Champions Tour event. Due to a licensing freeze of new games, last year's APAC LCQ slots for Chinese teams were reallocated to Korea and Japan.
Edward Gaming
Originally established in late 2020, Edward Gaming has become one of the staple mainstays as well as being one of the longest organizations to retain a roster within China. While the team had no luck in finding any success during their first few tournaments, two names became synonymous with the roster that continue to today: Life , the primary Duelist, and Haodong , the team's star Controller. The two are EDG's oldest current standing members and with the addition of CHICHOO and nobody , the team became even more deadlier. However, the x-factor of EDG is prodigy star ZmjjKK , formerly of Royal Never Give Up
Royal Never Give Up Inactive MiracleXD Yang Zebin (杨泽斌) nobody Sen Xu Wang (王森旭) shuaishuai ColdFish Pengzhi Xiang and CBT Gaming
CBT Gaming Inactive Yuicaw misfoRtune Zhang Bolin (張柏霖) Rainy Li Guo-Shuo (李國碩) , who debuted in 2022 and immediately made an impact. ZmjjKK consistently found himself within the top-five ACS of every tournament. Combined with Life's own daredevil playstyle and the aggressive nature of the team themselves, EDG's tempo could prove a shock to the rest of East Asia.
They're China's best team coming into the LCQ. Will they establish their dominance even further?
KONE eSports Club
Formerly known as Suning Gaming
Suning Gaming Inactive Ninebody Yi Ding Yosemite Lei Wang unknown1 李金宙 ColdFish Pengzhi Xiang Skies Yulin Yang (杨玉林) NoiR YiHao Yihao Chen Nierus 韩其兵 Ninebody 丁毅 Jet 周泽川 for most of their existence during the first two years of Valorant esports, KONE was established from the core of the roster after Suning was dissolved in mid-2021. Key figures such as Knight , YiHao , and star duo Ninebody and Yosemite moved over to KONE as the roster continued to compete in top tournaments. While the roster wasn't able to crack through the midfield under Suning, their first months in KONE saw steady improvements that often resulted in them finishing within the top four, often competing with the likes of FunPlus Phoenix ZHUQUE, Tales of Eastern, and the former Totoro Gaming
Totoro Gaming Inactive 813 Yu Zhaoheng (俞兆恒) You Yip Man Ho heybay Ho Shun Hei Midnight Wang Yingjie (王英杰) cxy0714 Chen Xingyu (陈兴裕) Sylviaovo Wang Mingming (王明明) .
When stalwarts ColdFish and nizhaoTZH left, the team recruited sword9 and LuoK1ng from Qing Jiu Club
Qing Jiu Club Inactive HangHang Du Yu Hang (杜宇杭) SeeMyTry Lu Shi Wei (卢世炜) sword9 Li Wei (李卫) . The team kept its shine and emerged as one of the top teams in China coming into 2022, and with their different take of the stereotypical Chinese aggression playstyle infused with some unique set-plays and agent compositions, the team is ready to showcase that EDG isn't the only Chinese team to fear.
With the qualification of EDG and KONE, the current participants of the East Asia LCQ are: