As first announced on December 10, country-based Leagues are beginning to roll out in Europe. Yesterday, Riot revealed VCT 2022's structure for EMEA.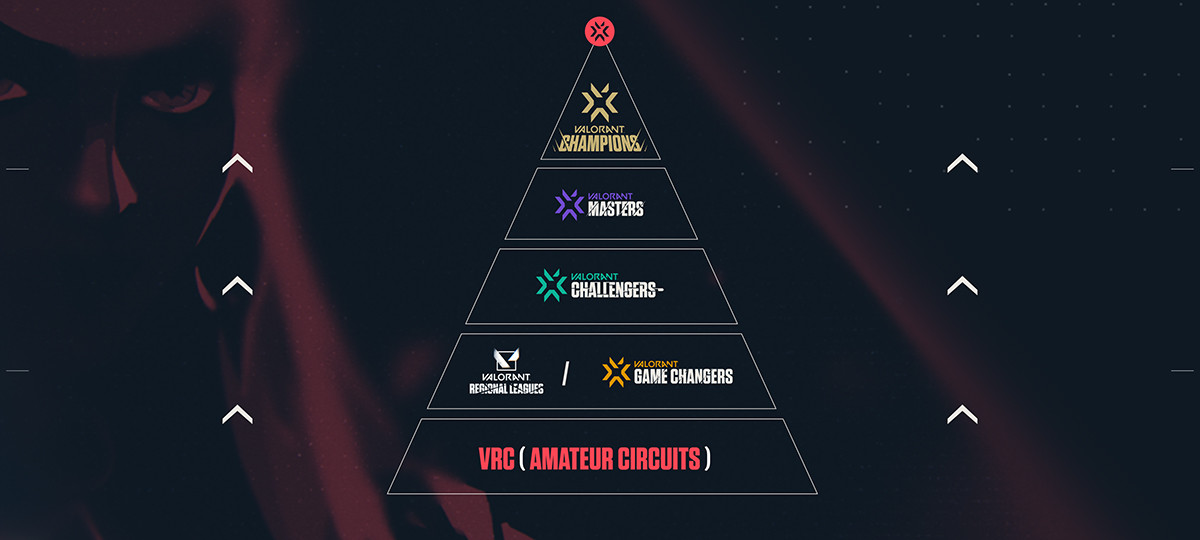 The rough structure of the 2022 VCT in EMEA. Image credit: Riot Games
Valorant Champions Tour 2022
Acend, Gambit, Liquid, and Fnatic, the four EMEA representatives in Valorant Champions, will skip the qualifying action and will be invited straight into VCT Stage 1's league-style play.
Those four teams will be joined by eight teams from two open and closed qualifiers. Four of those slots belong to Europe, while Turkey and CIS will each get two. Any of these qualifiers will be open to MENA teams.
There will be a VCT Promotion Tournament for VCT Stage 2. The winners of the eight Valorant Regional Leagues will play against the bottom two VCT teams, with two VCT spots on the line.
Riot has promised more information on the overall VCT format soon.
Valorant Regional Leagues (VRLs)
Valorant Regional Leagues are introduced as the "peak of regional Valorant esports." Across EMEA, there will exist eight VRLs:
Spain (also eligible for players from Portugal and Italy)
France (also eligible for players from Belgium, the Netherlands and Luxembourg)
UK, Ireland & Nordics
Poland and Eastern Europe (also eligible for players from Israel)
CIS
Turkey
DACH (Germany, Austria and Switzerland)
Each league will be operated by partnered organizers. The leagues will be divided into two stages, with a regular season and playoffs crowning a champion. The participating teams will be decided through VRL open qualifiers at least once per season.
The winners of the first stage of these VRLs will qualify for the aforementioned VCT promotion tournament. The winners of the second stage will qualify for the VRL EMEA finals.
The number of qualifiers and available spots may vary based on the results of the Promotion Tournament.
The 2022 VRL season will kick off on January 24 with its open qualifiers. League play will commence on February 14.
Game Changers EMEA
Riot is planning to hold three VCT Game Changers EMEA events in 2022. The first one will be played in January, while the other two are scheduled for May and September. The best teams from these events will have the chance to play a global Game Changers event planned for November.
The Game Changers EMEA Academy is also being introduced with six tournaments in 2022 as a way to foster the lower levels of competition.
Whenever possible, the Game Changers EMEA circuit will run parallel to the wider EMEA ecosystem, avoiding overlaps so as to permit teams to compete in Game Changers, VRLs, and VCT open qualifiers.
Valorant Regional Circuits (VRCs)
As a way to develop grassroots Valorant talent, Riot is also creating the Valorant Regional Circuits. These will work similarly to the 2021 VCT. Smaller names will be able to participate in individual competitions throughout 2022 and fight for circuit points. The teams with the most points at the end of the circuit will duke it out to become the circuit champions.
Broadcasting
Riot has also revealed plans to broadcast as much Valorant esports as they can in 2022:
VCT Qualifiers
VCT Stage 1 and 2 Regular Seasons
VCT Stage 1 and 2 Masters
VCT Promotion Tournmament
EMEA Last Chance Qualifier
VCT Champions 2022
Three VCT Game Changers EMEA tournaments
All eight VRLs
VRL Finals
While transmission of VRCs is not promised, Riot has committed to broadcasting all VCT events in English, French, German, Spanish, Russian, Turkish, Polish, and Arabic.