Masters Tokyo will feature two Chinese teams alongside the 10 qualified VCT teams, marking the third straight VCT LAN in which China will have at least one representative.
Coming off a strong performance in LOCK//IN just a few months ago, EDward Gaming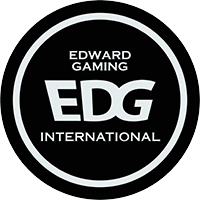 EDward Gaming China Rank #1 ZmjjKK Zheng Yongkang (郑永康) nobody Wang Senxu (王森旭) Muggle Tang Shijun (唐时俊) CHICHOO Wan Shunji (万顺治) Smoggy Zhang Zhao (张钊) Haodong Guo Haodong (郭浩东) returns for a third consecutive event in hopes of proving this time they can compete for a title. They'll be joined by Attacking Soul Esports
Attacking Soul Esports China Rank #5 monk Wang Haoyu (王浩宇) Yuicaw Huang Yung-chieh (黃湧傑) YHchen Chen Yuhan (陳昱瀚) Zero1 Meng Zhen Ren (任梦真) bunt Jiang He (姜河) Life Dong Hao Qu (瞿东豪) hfmi0dzjc9z7 Zhang Juncheng (张峻程) , who surprised everyone as they rose from an underachieving squad into one of China's top teams.
Photo by Valorant Esports China/TJ Sports
EDward Gaming have consistently maintained the distinction as the definitive "best team" from China. As the region's most experienced roster in terms of international experience, it is not out of the question to consider EDG as one of the primary dark horses for making a deep run in Tokyo.
However, they weren't spotless at the start of the 2023 circuit. While EDG was steadfast in dominating the early competition during the FGC Act 1: Invitational, they were stopped in their tracks during the grand final against fellow Chinese representative Attacking Soul Esports, losing their first chance at glory with a 3-2 loss. While the loss didn't affect EDG's qualification into Tokyo, it was enough to stir conversation about EDG's dominance within the region.
In response, EDG swept through on a near-perfect run of the FGC Act 2: Invitational, only losing (once again) to ASE during the upper playoff rounds. But this time, EDG returned the favor with a sweeping win in the lower final before decimating Bilibili Gaming
Bilibili Gaming China Rank #2 whzy Wang Hao Zhe (王昊哲) rin Li Le Wei (李乐炜) Knight Liu Yuxiang (刘宇翔) Yosemite Wang Lei (王磊) Biank Zhong Jian Fei (钟剑飞) in the grand final.
EDG's main star ZmjjKK will remain as their x-factor in many of their matches, but the impact of nobody and CHICHOO will certainly give any of their opponents a headache. EDG will face off against fellow underdogs T1
T1 Korea Rank #3 xeta Son Seon-ho (손선호) Sayaplayer Ha Jeong-woo (하정우) Carpe Lee Jae-hyeok (이재혁) iZu Ham Woo-ju (함우주) k1Ng Lee Seung-won (이승원) xccurate Kevin Susanto , igniting yet another chapter in the long-storied esports rivalry between China and Korea.
Another international tournament, another stage for EDG to rumble. (Photo by Colin Young-Wolff/Riot Games)
During the majority of the 2022 season, Attacking Soul Esports weren't much more than an afterthought — their most notable moment being a 14-game losing streak. Not only was the team floundering, they also weren't improving, sentencing them to the distinction of one of China's worst teams.
But the aftermath of that year brought new life into the team — literally.
Life had just left EDG after their Champions 2022 campaign and joined ASE soon after; debuting during FGC 2022 Invitational: Epilogue. During the tournament, Life's impact was immediately felt, alongside star initiator YHchen , controller bunt , and the infamously named hfmi0dzjc9z7 . The team reached their best finish to date in fourth place, even if they didn't become champions.
Continuing their upwards trend, ASE went flawless in the FGC Act 1: Invitational group stage, eventually shocking everyone with an upset against EDG in the grand final, a 3-2 upset that etched their name in Chinese Valorant history. The team maintained their strong performance towards Act 2, and even though they eventually suffered a revenge loss against EDG in the playoffs, ASE were no longer the doormat they once were last year; now, they have a dynamic lineup that has potential to catch teams off-guard if they're not weary of them.
As if by fate, EDG's match against T1 won't be the only China vs. Korea showdown in the tournament; ASE's first test on the international stage will be against one of the powerhouse of the region, DRX
DRX Korea Rank #1 stax Kim Gu-taek (김구택) Rb Goo Sang-Min (구상민) Zest Kim Ki-seok (김기석) BuZz Yu Byung-chul (유병철) MaKo Kim Myeong-gwan (김명관) Foxy9 Jung Jae-sung (정재성) .
If hfmi0dzjc9z7's name won't terrify you, their playstyle will. (Photo by Valorant Esports China/TJ Sports)
Looking Ahead
Masters Tokyo will kick off at 11 p.m. EST on June 10 with two Group B matches: