The site of Masters: Berlin, Verti Music Hall, is not your typical LAN stage.
There are obvious reasons for that, of course. The COVID-19 pandemic has prevented Riot from hosting a LAN in front of a live crowd just yet. Without the crowd, there's no reason for any kind of screen above the players so the audience can watch the actual gameplay and the players have no crowd to face toward. The environment gives Masters: Berlin a kind of studio vibe.
But Riot decided to make the most of it.
The stage impresses even when displaying nothing more than an animated VCT logo. (Photo by Colin Young-Wolff/Riot Games)
"The stage design and everything looks really cool," G2 Esports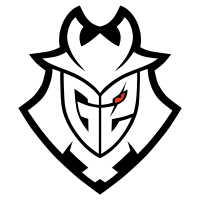 G2 Esports Europe Rank #7 keloqz Cista Wassim Mixwell Oscar Cañellas koldamenta Jose Luis Aranguren AvovA Auni Chahade nukkye Žygimantas Chmieliauskas duelist Žygimantas "nukkye" Chmieliauskas said. "I like how you can see your opponents, which is very fun."
The two teams face each other from opposite sides of the stage, allowing them to look directly at each other if they look up from their monitors. Teams have taken advantage of this for trash-talking, particularly in timeouts. Even outside of timeouts, it's easy for competitors to get their opponents' attentions by simply standing up — an effort that isn't so easy when the LAN stage faces toward the audience and players have to turn to see their opponents.
The setup made it too tempting for Yu "BuZz" Byung-chul (유병철) to resist taunting Acend
Acend Europe Rank #3 zeek Aleksander Zygmunt cNed Mehmet Yağız İpek starxo Patryk Kopczynski BONECOLD Santeri Sassi Kiles Vlad Shvets as he and his Vision Strikers
Vision Strikers Korea Rank #1 Lakia Kim Jong-min (김종민) stax Kim Gu-taek Rb Goo Sang-Min (구상민) k1Ng Lee Seung-won BuZz Yu Byung-chul (유병철) MaKo Kim Myeong Gwan teammates asserted their dominance over them. (Photo by Colin Young-Wolff/Riot Games)
That setup has contributed to the event's fun atmosphere, for sure. But the direction the players face isn't what has captured everyone's attention for the last week. It's the stage's visuals.
The stage's floor is a giant LED screen that can create a cornucopia of effects based on what's happening in a match. It's a design choice that wouldn't make much sense for a tournament in front of a live audience who might be unable to fully see the floor the competitors play on, but one that makes sense for a broadcast audience that can get constant top-down views.
"This is probably the sickest stage I have ever been on," Ethan "Ethan" Arnold of 100 Thieves
100 Thieves North America Rank #2 Hiko Spencer Martin Ethan Ethan Arnold b0i Aaron Thao nitr0 Nick Cannella Asuna Peter Mazuryk said. "Like just the layout and the production value and everything like that is incredible."
One feature of the stage's LED flooring is a map overlay display. (Photo by Colin Young-Wolff/Riot Games)
Over the course of the tournament, the floor screen has displayed the selected map's layout, technical pause indicators that describe the type of issue, timeout indicators, an animated VCT logo, and various effects that coordinate with light shows on team introductions and with AR graphics only visible on broadcast.
Those augmented reality graphics are most prominent during map selection, in which they show a 3-D depiction of the maps floating above the stage, and following rounds when a player gets the finishing kill with a gun from the game's new skinline, which prompts the appearance of a hovering Zedd icon over the stage in an effect similar to the animation in-game. Players, of course, can't see those, but the visuals in-person remain stunning even without the hologram technology.
VALORANT Champions Tour KR
@valesports_kr
"It's still really cool in person, as well," star Envy
Envy North America Rank #3 Marved Jimmy Nguyen Victor Victor Wong crashies Austin Roberts FNS Pujan Mehta yay Jaccob Whiteaker entry Jaccob "yay" Whiteaker said. "Like, it looks really good."
yay said Riot "goes the extra mile" with stage production and graphics and designs. For him, that was particularly noticeable in the features and photo shoots he took part of, something that he never saw get as much focus in previous events he competed in. "And honestly, it makes the experience a whole lot better," he said.
Other players, however, were wowed by the production value of the stage alone. While everyone agreed it looked impressive, others felt no other venue they've played in could compare.
"It's so cool, the most beautiful thing I've ever seen," Havan Liberty
Havan Liberty Brazil Rank #4 krain Gustavo Melara Myssen Rodrigo Myssen pleets Marcelo Leite shion Gabriel Vilela liazzi Felipe Galiazzi 's Rodrigo "Myssen" Myssen said. "It beats First Strike, which for me was the most beautiful thing I'd ever seen. In Brazil the arena was incredible. And this time it was incredible, no words. Very good, everything. Perfect."
VALORANT Champions Tour
@ValorantEsports
No amount of lights or high-tech displays can make players forget that this LAN event is missing the audiences that make live esports events special. It's an issue created by circumstances outside of developer or player control, but one that leaves players longing nonetheless.
"It is a good venue, I like how they did it and how they designed it is good," yay said. "I only wish there was a crowd. I really wish there was a crowd."
"I think, for now, the VALORANT LANs are a bit overrated," nukkye said. "It feels the same as playing online. It's not as prestigious as it felt like in CS:GO, when you qualify for an event. I think that's gonna change in the future with more events and more teams qualifying and a live [crowd] stage. That's, I think, the only difference for me. I feel the stage needs [a crowd] and people play differently. Now, everybody plays like they're at home."
The desk setup at least gives the players some level of outside interaction, being able to look at, gesture, and yell at each other — but for a competitor who lives to feel the rumble of a roaring audience as they build up toward an ace, it's not the same.
"Obviously, there's not a crowd, and I think that's kind of where I came from," ethan said. "Counter-Strike had just insane crowds, even if the stages weren't incredible, you know? The crowd is the main attraction for everything.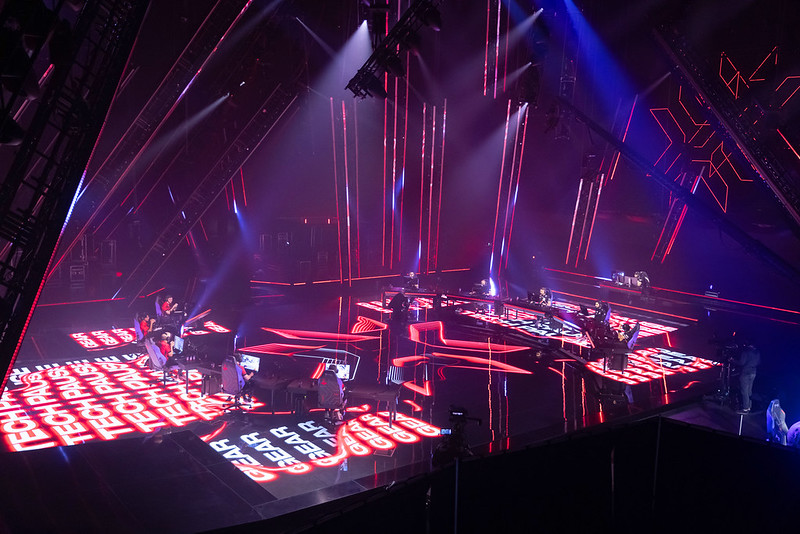 The stage's screen will specifically state that a technical pause is caused by some kind of gear malfunction. (Photo by Colin Young-Wolff/Riot Games)
Riot built the stage to make the most out of a far from optimal situation in which players would compete in a high-stakes environment without the raucous audience necessary to create such an atmosphere. But if Riot can one day replicate this setup in front of thousands of screaming fans, it might be an experience like no other.
An audience could feed an ever-escalating battle between two teams gesturing and yelling at each other round after round. LED screens coating an arena that hosts a crowd could create an immersive watch like no other, if the cost of doing so isn't prohibitive. The potential is there to turn this stage into the blueprint for something special to Valorant LANs.
"Hopefully we'll get there eventually," ethan said of LANs with crowds. "And I think for now, they're really making the best with what they have."
At least visually, "the best with what they have" might simply be "the best."
Eutalyx contributed to this story with interviews.