Team Vitality

Team Vitality Europe Rank #3 MOLSI Michał Łącki Destrian Tomas Linikas Twisten Karel Ašenbrener BONECOLD Santeri Sassi ceNder Jokūbas Labutis locked in the last playoffs slot in the eighth and final match week of VCT EMEA. Meanwhile FNATIC

FNATIC Europe Rank #2 Leo Leo Jannesson Derke Nikita Sirmitev Boaster Jake Howlett Chronicle Timofey Khromov Alfajer Emir Ali Beder reinforced their regional hegemony with a flawless win over Natus Vincere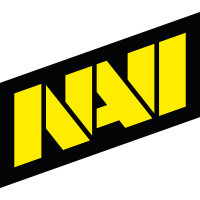 Natus Vincere Europe Rank #5 ANGE1 Kyrylo Karasov Shao Andrey Kiprsky Zyppan Pontus Eek SUYGETSU Dmitry Ilyushin cNed Mehmet Yağız İpek . Giants Gaming
Giants Gaming Europe Rank #32 Fit1nho Adolfo Gallego nukkye Žygimantas Chmieliauskas hoody Aaro Peltokangas rhyme Emir Muminovic Cloud Kirill Nehozhin and FUT Esports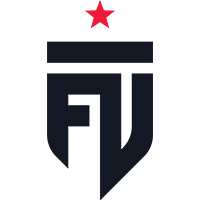 FUT Esports Europe Rank #4 MrFaliN Furkan Yeğen AtaKaptan Ata Tan Muj Serhat Yüksel MOJJ Buğra Kiraz qRaxs Doğukan Balaban qw1 Konuralp Şahin also guaranteed fourth and fifth-place season finishes.
The VCT EMEA Playoffs begin Tuesday, May 23.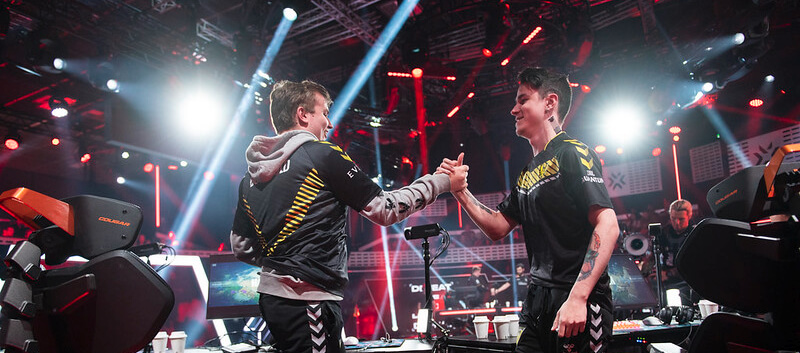 Photo by Hara Amorós/Riot Games/LVP
Day One:
Just one match was played on the first day of the final week, but it was a titanic one. FNATIC and Natus Vincere, arguably the two best teams in EMEA, clashed in their final match of the season. Not only was NAVI looking for revenge after losing in São Paulo at LOCK//IN, winning this match would guarantee first place in the regular season.
FNATIC kicked off the match with a Lotus pick, where they already held a four-game streak. They maintained the same comp the team debuted in São Paulo, while NAVI tested their fifth new agent lineup in five games. It seemed to favor them initially, taking a 4-0 start, but FNATIC quickly recovered.
Chronicle and Alfajer were key in holding sites and taking FNATIC to a tied half. After an accidental timeout from d00mbr0s , Boaster sicced Derke on NAVI. The Finn took 13 kills on attack alone as his team climbed to a 13-9 win almost untouched, marking the team's fifth-straight win on Lotus.
NAVI's newest composition placed Zyppan on Breach, an agent the Swede thrived on with a 1.27 rating, 21 kills and 11 assists. Even so, ANGE1 's Omen was the one opening space for NAVI, as the IGL found first blood six times.
History repeated itself on Split: FNATIC dealt the same agents hand, while NAVI changed three agents, in their third comp in three games. The former spent the entire map in control, with Derke forcing 3 opening duels on defense. Alfajer carried FNATIC to a 12-5 lead, where a timeout from NAVI chipped three rounds back, at which point the LOCK//IN champions got the 13-8 win.
Alfajer had NAVI's number on Split, dropping 29 players (+18 differential) across 21 rounds. His 1.77 rating and 231 ADR eclipsed everyone else's, despite low assist and KAST numbers. His abnormally high headshot rate (39%), though, was overshadowed by SUYGETSU 's 67%.
FNATIC's win this week not only meant they clinched first place in VCT EMEA, but it put them in an entirely different echelon of competition. Across all VCT International Leagues, FNATIC are the only ones without losses on record — better yet, they've only lost one map since the LOCK//IN finals. FNATIC's win against NAVI also established a year-long record, in which they've gone undefeated in EMEA group stages since Stage 1 of 2022.
FNATIC are 19-0 in EMEA group stages. (Photo by Hara Amorós/Riot Games/LVP)
Day Two:
The second day of Week 7 would put several fates on the line. Team Heretics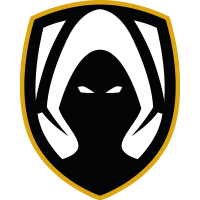 Team Heretics Europe Rank #10 Mixwell Oscar Cañellas AvovA Auni Chahade Boo Ričardas Lukaševičius keloqz Cista Wassim and Vitality both needed a win to stay in the running for playoffs, each later relying on tiebreakers to go through. Karmine Corp

Karmine Corp Europe Rank #135 ZE1SH Ahmed El Sheikh ScreaM Adil Benrlitom Nivera Nabil Benrlitom xms Alexandre Forté sh1n Ryad Ensaad were already out of the running, but their result could tamper with the fates of several other rosters.
Vitality opened against Heretics on Haven, a map the former picked despite a three-loss streak. The mirror matchup that subsided initially favored keloqz , who found 18 frags — five openers — on defense. He took his team to an 8-2 lead, but it quickly subsided.
Vitality kept their heads cool and held back all of Heretics' advances, dropping just two rounds on defense and chaining eight in the process. Heretics' six-round lead wasn't insurmountable, as the Golden Hornets recovered from that deficit to ultimately take the map 13-10.
Heretics chose Lotus; a logical pick given their four wins in five matches. Vitality switched up their composition by removing Jett and Skye in favor of Raze and Fade, a decision Twisten based on comfort, and resulted in a mirror matchup. That comfort resulted in a four-round lead at halftime, as the team converted a timeout into three rounds for an 8-4 advantage.
After dropping the pistol and bonus, the bees scored four in a row to reach match point. Heretics didn't go down easily, and punched through six rounds in a row, fully recovering and tipping the game into overtime. Vitality won the map 15-13, killing Heretics' chances at reaching the playoffs.
Contrarily, Vitality's playoffs chances were kept alive. They would have needed BBL Esports
BBL Esports Europe Rank #33 aimDLL Hüseyin Kabişteke Turko Mehmet Özen AsLanM4shadoW Ali Osman Balta Brave Eren Kasırga QutionerX Doğukan Dural SouhcNi Ibrahim Sağır and KCorp to win but, as the latter lost soon after this match, Vitality's fate would rest in the hands of a FUT win heading into the final day of the match week.
Not much to be said here.
The bout between Giants and KCorp could keep the latter away from 10th place, but could also knock Giants down from fourth to fifth. A win from the French side could also mess with the fates of three other teams.
KCorp's Lotus pick brought no comp surprises, as both teams were striving for important results. The Frenchmen came swinging out the gate with a 9-3 attacking half that ignored Giants' defenses and timeouts. But, as fate would have it, KCorp were hit with the fabled 9-3 curse. Their opponents replied with two large sequences that eventually took the game to overtime-
A long overtime ensued, with an ace from Fit1nho closing it out 16-14 in Giants' favor. The Spaniard's 30-bomb was second only to Twisten's; Fit1nho also found seven opening frags, second only to ScreaM 's eight, finishing a hair under a 1.50 rating.
Giants' veto also exploited KCorp's greatest weakness: Ascent, a map the latter hadn't ever won in the VCT EMEA. Meanwhile, the former had a three-win streak to boast about. While KCorp were able to put up an initial fight, it didn't come as a surprise when Giants quickly recovered, overtook, and crushed the Frenchmen. After a tie at 4-4, Giants only dropped a fifth point on their way to a 13-5 win that closed out the match.
KCorp's loss confirmed the team has ended the season at the bottom of the VCT EMEA standings. It also locked in Giants as the fourth-best team of the season, and thoroughly complicated Vitality's second playoffs scenario.
KCorp now have several months to prepare for LCQ. (Photo by Hara Amorós/Riot Games/LVP)
Day Three:
Given Heretics' loss against Vitality, KOI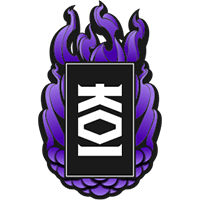 KOI Europe Rank #132 starxo Patryk Kopczynski koldamenta Jose Luis Aranguren sheydos Bogdan Naumov trexx Nikita Cherednichenko Wolfen Berkant Joshkun 's match against Team Liquid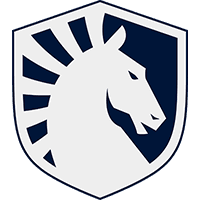 Team Liquid Europe Rank #1 Jamppi Elias Olkkonen nAts Ayaz Akhmetshin Sayf Saif Jibraeel Redgar Igor Vlasov soulcas Dom Sulcas could only alter KOI's standings. A win here would launch the team up into eighth, a much-needed boost after spending most of the season isolated at the bottom of the leaderboard.
Liquid returned to Fracture with their old comp, after an experimental lineup in Week 6 led them to a loss against NAVI. KOI's initial two-round lead was quickly squashed, going from a 4-2 advantage to a 7-5 deficit at halftime. After switching sides, each team won two rounds and Liquid took a timeout. They converted that into four points, cruising to a 13-7 win.
soulcas shone on the Liquid camp, dropping 13 players across defense, where Liquid found six retakes in seven rounds. He also put his team on map point with a 1v3 on A, eventually closing out the match with a 1.74 rating. His performance was certainly boosted by Sayf , who opened up seven rounds and recorded a 90% KAST.
KOI was Split's pick, but a curious one, as they had only played the map once (in Week 1), while Liquid were sitting on a four-win streak. Both teams brought out new material: KOI kept just two agents from their previous comp, while Liquid clearly wanted to have some fun. Alongside Breach, Astra and KAY/O picks, Jamppi debuted on Neon, and nAts was placed on Chamber.
The innovative comps led to an extremely close game. KOI and Liquid both took timeouts in the first half to stop each other from building momentum, with the latter coming out on top 7-5. KOI then leveled the score, and slowly punched their way up to an 11-11 tie. They kept that momentum in the final rounds of regulation, with a 3K from starxo giving his team the 13-11 win.
Despite KOI winning the map, with trexx and Wolfen combining for 45 kills, all eyes were on nAts. The Russian sentinel pieced together 30 kills on his own, a 225 ADR, as well as nine multikills (two 4Ks). He was just edged out in rating by trexx, who scored 1.45 to nAts' 1.44.
The Lotus decider was the weakest link in the two teams' map pool, having only one win on the map each. KOI opted for a simple swap between Breach and Viper, while Liquid took advantage of their safety net for a wacky and even funner composition. Redgar picked up Reyna, Sayf was put on Killjoy and nAts on Fade.
Despite the unheard-of comp, Liquid looked very comfortable on Lotus. Redgar's men started 3-0 down, but replied with seven dominant rounds in which they steamrolled KOI for a 7-5 lead at halftime. By the second half, it seemed like Liquid were running circles around KOI, dropping just three rounds. Jamppi closed it out with a 4K for a 13-8 win from his side.
nAts brought the heat to Lotus, scoring 25 kills and just over 200 ADR. His 81% KAST wasn't the highest in the team, with that honor belonging to soulcas' 90%, but nAts' Fade found the highest rating at 1.48.
Redgar told sheydos he would pick Reyna. (Photo by Hara Amorós/Riot Games/LVP)
The final match of the first split of the VCT EMEA proved to be one of the most critical of the entire season. If BBL Esports
BBL Esports Europe Rank #33 aimDLL Hüseyin Kabişteke Turko Mehmet Özen AsLanM4shadoW Ali Osman Balta Brave Eren Kasırga QutionerX Doğukan Dural SouhcNi Ibrahim Sağır won, they would move into the playoffs in fifth, with FUT rounding out the table. If FUT won, they would hold on to fifth place and Vitality would move forward in sixth.
In other terms, it would directly affect both quarterfinals matchups. Giants will play their quarterfinal against the season's fifth seed, while Liquid will match the sixth seed.
FUT took advantage of BBL's previous 13-3 losses on Pearl and picked the map, and the latter bringing Harbor, Viper, and Skye on for the first time. While it initially seemed to help the roster, squaring up for a 5-2 lead, FUT quickly replied. They delivered 11 unanswered rounds and won in a 13-5 blowout.
Neither team brought new compositions to Haven, as the pressure mounted for the BBL camp. A loss here would throw them out of the playoffs and push Vitality in. FUT's momentum seemed to float from Pearl to Haven, as they climbed to a 10-2 lead by halftime. BBL were able to piece together five rounds but it was too little, too late, as FUT took two retakes for a 13-7 win that closed out the series.
With the final result of the regular season in, the playoffs were locked. Giants will face FUT and Team Liquid will match against Vitality, which secured the sixth place with BBL's loss.
You can do that in this game?
Looking Ahead
The six VCT EMEA playoffs teams now get three to four days of rest before the playoffs kick off. As the LOCK//IN winning region, EMEA will export four teams to Tokyo. Those four will be decided in a seeded double-elimination bracket, beginning May 23.
FNATIC and NAVI get a first-round bye, and need just one win to reach Masters. The remaining four teams require two wins to receive tickets to Japan.
The first two rounds of the VCT EMEA playoffs are: