The Masters Reykjavik finalists won their respective upper semifinal clashes with DRX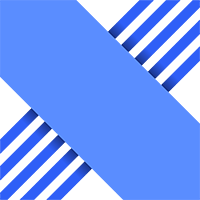 DRX Korea Rank #1 stax Kim Gu-taek (김구택) Rb Goo Sang-Min (구상민) Zest Kim Ki-seok (김기석) BuZz Yu Byung-chul (유병철) MaKo Kim Myeong-gwan (김명관) and XSET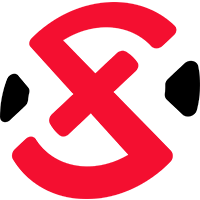 XSET North America Rank #2 , setting up the all-green rematch between LOUD

LOUD Brazil Rank #1 Sacy Gustavo Rossi aspas Erick Santos saadhak Matias Delipetro pancada Bryan Luna Less Felipe de Loyola and OpTic Gaming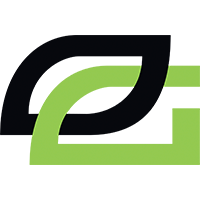 OpTic Gaming North America Rank #1 in the upper finals at Champions.
LOUD stunned DRX with a massive comeback on Breeze and a strong showing on Haven, taking home the series 2-0. OpTic, after a comeback on Haven, couldn't repeat their feat on Ascent and had to close out their series against XSET on Pearl.
Champions continues tomorrow with the second round of elimination, where FunPlus Phoenix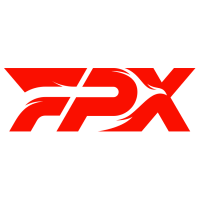 FunPlus Phoenix Europe Rank #1 SUYGETSU Dmitry Ilyushin Zyppan Pontus Eek ANGE1 Kyrylo Karasov Shao Andrey Kiprsky ardiis Ardis Svarenieks and FNATIC

FNATIC Europe Rank #2 Derke Nikita Sirmitev Boaster Jake Howlett Alfajer Emir Ali Beder — the last two EMEA teams alive — will play XSET and DRX, respectively.
Photo by Colin Young-Wolff/Riot Games
"We watched a lot of their games," aspas said. "We studied them, saw their patterns, prepared some antistrats, and with that we knew a lot of what they were going to do."
Despite being two of the most hyped-up teams at Champions, DRX and LOUD have never played each other. Both entered the match fresh off of 2-0 upper quarterfinal wins against FunPlus Phoenix and Leviatán, respectively.
And among many things, teamwork is what got LOUD this far.
"It's not that one single person is making a right decision, it's more like the team is making a right decision," saadhak said. "Everyone has a really good knowledge of what to do and of what not to do in certain circumstances, so it really helps in the final decision of what we're going to do. That comes after watching lots of VODs, talking a lot about the game, thinking about the game, playing the game."
LOUD picked Breeze to start the series, one of both teams' strongest maps. The Brazilians only have one loss, to OpTic in the Reykjavik grand final, while DRX only have two defeats. Incoming was nothing short of an all-out brawl.
"We did study DRX's Breeze a lot, we knew how they like to play the map and we just figured out that this was our best option for the match," coach bzkA said.
LOUD started strong with two quick rounds, but their 2-0 lead was short-lived. MaKo and Rb scored back-to-back 3Ks that tied the game at 2-2. After trading blows for a 3-3 tie, DRX ran away with the map. Even as LOUD took a timeout the following round, when they were down 4-3, the Korean squad wasn't affected and ran to a 9-3 half on their weaker side of the map.
"I think it was more our mentality that was wrong. We didn't have any proactiveness, we just let them play the game and we just watched in the first half," IGL saadhak said. "So for the second half, we adjusted our attitude and did what we trained for. It was pretty much that."
While things looked lost for LOUD, the Brazilians never bowed down. They took the second pistol of the match and began to come back into the game. DRX were able to find just two rounds on defense, as consecutive 3Ks from aspas, Less and pancada tied the score at 11-11. LOUD then pulled themselves out of two disadvantageous situations to find the 13-11 win in regulation.
Rb was DRX's best man on Breeze with 243 ACS and 21 frags.
termi pointed to the A site as the team's soft spot on defense. When coupled with communication issues and the team feeling off in general today, things quickly went south for the Korean mainstays.
"LOUD is a pretty aggressive team but I don't think we're any less aggressive. We weren't mentally worried about playing them," stax said. "Although we lost today, we don't think it was because of their aggressiveness per se but because they prepared a tactic specifically on Breeze and we just couldn't deal with it. Other than that, I think we played pretty well against them."
Sacy recalled their bout against Leviatán
Leviatán Latin America South Rank #1 Tacolilla Vicente Compagnon Melser Marco Eliot Machuca Amaro adverso Benjamín Poblete kiNgg Francisco Aravena Shyy Fabian Usnayo two days ago, where they had to deny the LATAM reps six match points to find a 14-12 overtime win.
"Our team had always had that doubt of comebacks because we'd never had that experience — either we'd win the game or just get a blowout loss. It was 9-3, we said 'hey, it's the same situation,' so I think after that game against Leviatán we got some extra comfort," he said. "And like saadhak said, I think we had no attitude in the first half, on defense, and when we switched we talked in the freeze time and said 'guys, we have to play our game, we're too focused on their game, let them play,' and it helped that Less and pancada had good aim."
Less led the charge for his team, downing 17 players in the second half alone and garnering 348 ACS in the process, while teammate pancada had a 100% KAST rate. Overall, the sentinel main earned himself 297 ACS and averaged 178 damage per round, the highest figures in the game.
"We have five very good players, so when one's doing bad the other's always going to pop off. We're here for each other so that's always going to happen," pancada said. "About my performance… I'm just doing what I've been practicing. Thank God I'm being blessed and doing a great tournament."
Haven, DRX's "bread and butter" as Achillios put it, was the second map of the series. It's a map DRX are tried and tested on, and it's one of their signature maps. LOUD, on the other hand, have strong regional results on the map — as they do in all others due to their regional dominance — but have only found one overseas win on it.
That never got to their head.
LOUD looked like a hot knife cutting through that butter. After finding a 2-1 lead, LOUD never stopped. They gave up just a handful more of rounds on their way to a clean 13-6 victory that sent DRX to the lower bracket, in a result that only around 2000 people picked in the VLR.gg Pick 'Ems.
That's just rude, Less.
"We were a little bit unlucky because a couple of times we tried to stack on a specific site or push out but LOUD was on the opposite side of the map," BuZz said. "Just a little unlucky on that front. And like our coach said earlier, some of us aren't feeling 100% right now so I think all those factors played into our loss on Haven."
For DRX, their run is not yet over. They still have a lower bracket they can go through, where they'll first face FNATIC.
"Our mental is still strong following today's defeat. Actually, personally, I didn't feel like I even played the match because it went by so quickly. As long as I'm the in-game leader, I'm going to make sure we don't finish fifth or sixth," stax said.
No losses on his watch. (Photo by Colin Young-Wolff/Riot Games)
But not many people predicted this outcome, as even some of the players — like FNATIC's — wanted DRX to move on so they could play them later, in the grand finals.
"We focus a lot on our work and we have the mentality within our team that the result we get in a tournament is the fruit of our labor, and that's [coming] from the whole year," bzkA said. "People might think we're doing a good job, a bad job, but the fact is we're bringing results right now. We're not going to change our training, we're not going to change our preparation because of outside pressure."
"We keep doing our job. I think everyone's dedicating themselves really well," he continued. "We can focus on ourselves together and shut out the outside noise. Because in the end, when the tournament ends, it doesn't matter if we win or lose. It'll still be us together in a room talking about it."
LOUD's job is far from done. They'll come back next Friday, Sept. 16, for the upper bracket final against OpTic. There wasn't any particular team coach bzkA preferred to face in the upper final — he said LOUD's opponent would have gotten there by their own merit. Instead, his focus was on how the winner of the other semifinal would change the dynamic of their next match: OpTic — a team that knows them and that they know — or XSET — a team that doesn't know them and that they don't know.
"When we face a team, we always want to win. That's a question I can't answer, because we're playing to win. Everyone is beatable," saadhak said. "We had the same feeling in Iceland this year. I just hope that we make a different history now," Sacy concluded.
LOUD have only lost one match at Champions so far. (Photo by Colin Young-Wolff/Riot Games)
The second semifinal of the day was, unlike the previous one, not a new match. OpTic and XSET are two of the four teams to have represented North America abroad, and have already played each other four times this year. The latest was at Masters Copenhagen, when the playoffs draw placed the two teams against each other in the opening round.
They're meeting on the international stage again in Istanbul, just one round deeper into the bracket. And even better, they were the only two undefeated teams at Champions when they joined the server.
XSET picked Haven, showing their hand on the map for the first time since Copenhagen. It's one of the maps they've played against OpTic in each of their last three matches against one another, winning twice. Their only loss came in Copenhagen's quarterfinals. They hadn't yet played the map since arriving in Turkey.
OpTic kickstarted the map by winning the first two rounds, but were quickly reeled in. dephh took a 1v1 to level the scoreline at 2-2 and his team doubled down for a 3-2 lead, but yay stuck in his own 1v1 clutch to keep it tight at 3-3. XSET ran away with the half from thereon out, reaching an 8-4 lead after a 3K from zekken .
OpTic then moved to attack, their statistically better side. The numbers proved true, as yay opened up the second half with a 4K. Featuring 15 attack kills, El Diablo dragged his team to a 9-9 tie and, later, a 13-9 comeback win that meant OpTic had stolen XSET's map pick and moved to Ascent with a definite advantage.
yay maxed out at 260 ACS across 23 kills. He also averaged 155 ADR, sandwiched between Victor and FNS — who had 154 and 156 ADR respectively. BcJ was XSET's most consistent player, putting up a server-high 172 ADR and 86% KAST, but finishing with slightly less ACS than yay at 251.
"They just played the map pretty good. We didn't adapt fast enough," XSET IGL dephh said. "We tried a lot of things, didn't work in the moment. I think it's just quite attack-sided right now, it's really hard to have a defending half that's good, like getting six rounds I think is pretty nice on defense. Just think the map is slightly attack-sided and they did a pretty good job at finding the gaps."
"We just gave a lot of trust to FNS. We did some unconventional things that I won't go too into detail with, but we just played our game," Chet said. "I think the calling went super well during that series to make that comeback [happen]."
If you don't move, they don't see you, right?
OpTic's map of choice was Ascent, a map they've scarcely lost this year. They have just three regional defeats on the map, and four international losses on it. Since arriving in Istanbul though, they've only played the map once, against Liquid. XSET hadn't touched the map since Copenhagen. In their recent matches, however, they have two 13-11 results — a win and loss — against OpTic on Ascent.
"We had a good chat going into the match about what we needed to do to close the series out. I think everybody was just ready to execute and do it," coach SyykoNT said.
Much like the first half of Haven, the first half of Ascent was a blowout in favor of XSET. OpTic again had a 2-0 start, but a 3K from Cryocells put them on the board. XSET jumped ahead with a flawless round. It prompted a timeout from OpTic, but their opponents kept stacking up rounds and were soon 9-3 up following 3Ks from Cryocells , zekken and BcJ.
And much like in the second half of Haven, OpTic began coming back into the map on the second half of Ascent. Winning the pistol round allowed them to chain another five rounds together, leveling the score at 9-9 after strong plays from crashies and yay. Two timeouts from XSET allowed them to stay in the game at 11-11, eventually closing out the map 13-11 to trigger the Pearl decider.
"We also did a much better job of adapting to what they were showing us. We have a lot of experience against that particular composition due to our scrim partners," XSET's coach said. "We had answers to what they were throwing versus on Haven, where we were a little bit more caught off guard by the 'cringe comp.' But yeah, it just really comes down to adaptability and mental fortitude and getting that activated going into match two."
dephh chimed in to say Ascent is just as defense-sided as Haven is attack-sided. They've seen different teams try to run different compositions, themselves included, but still see trouble finding attack rounds across the board. However, he added, today the team managed to adapt and figure ways around it.
Seems like DRX aren't the only team evoking "Vamos" energy.
As a map making its debut at Champions, neither OpTic nor XSET have many bouts on Pearl. The former had only played it once, finding a 13-3 win against LOUD in the group stage, while XSET had played and won it twice, losing just 15 rounds across both matches.
XSET were finally the ones to get their foot in the door first, finding the first two rounds of Pearl. OpTic immediately replied with a chain of five rounds, which Marved capped off with a triple for a 5-2 scoreline. XSET took a timeout and converted two rounds, reaching 5-4, but OpTic immediately called their own pause and converted a round. A lengthy technical pause ensued in order to replace Victor's stuttering computer. Marved and yay jumped back in with double 3Ks that allowed their team to close out the half ahead 8-4.
After switching to attack, XSET fought back into the game and punched their way to an 8-8 tie. But their comeback hopes were soon crushed, as OpTic responded with four of their own to put the Reykjavik champions on match point. XSET dashed onto the A site to try and prevent their loss, but let slip a 4v2 situation that gave OpTic the 13-8 win.
yay was a key piece to OpTic's win today, racking up 288 ACS and 184 ADR. He opened up four rounds, as many as Cryocells and Victor, and totalled six multikills — the most on the map — equally divided up between halves.
"Without going into too much detail strategically, it really just came down to playing to our strengths and trying to put them in a position where we control the pacing of the game," SyykoNT said. "We were doing a pretty good job of that on some rounds, but it just kind of slipped away from us on that map."
If only every Classic did that…
XSET's loss means they're dropping to the lower bracket. Currently a top-six team, they've already improved upon their previous international appearance, which ended in the top eight. If they want to go further, they'll have to overcome current Masters champions FunPlus Phoenix.
"We beat them last time, but you know, I said it a million times in the past: every team here at Champions is an extremely good team, they're here for a reason. They're the best teams in the region. FPX won the last Masters event," SyykoNT said. "I expect them to have some answers to what we're doing. I expect them to have some adjustments, maybe some new comps, maybe ANGE1 whips out the Yoru. He does a good job of playing with confidence, as if he's the best player in the world. And whether or not that's true, that's up to be decided. I'm just excited for another tough competition against them and hopefully to squeeze out another win and silence any doubt about you know, any flukes or anything like that."
As a final note in the press conference, both XSET's coach and IGL saw OpTic's pauses as more of a convenience than a requirement.
"Seems like every time we play them guys there's a tech pause. Obviously, a lot of this stuff is out of their hands and whatever," dephh said, pointing to the long Pearl pause. "But I mean, the tech pauses, they just seem to crush momentum at times, and come at really bad times. After our tactical pauses and stuff and big round wins. So very unfortunate, but also pretty sucky for a team that's pretty momentum-based and we want to get rolling and, and every other round, we have to wait for 30 minutes."
SyykoNT added that it's very frustrating for the team, and he considers it a gap in the ruleset that needs to be addressed by Riot and it's an issue he plans to bring up with the competitive team.
"It's no different when we played them online to when we played them here on the stage. It's, you know, tech pause when it's 12-11; tech pause after we get a win; tech pause after I call a tactical timeout and go on a 60-second spiel about what we're about to do. It's intentional and, in my eyes, it's an abuse of the ruleset and I think that it should be fixed."
When questioned on this, OpTic dismissed XSET's opinion of their timeouts. Coach Chet said there was never any intention to harm XSET — they merely took a technical pause because Victor's computer had issues — and Riot would never allow them to.
"We don't need to cheat to beat them, I assure you," FNS concluded.
Get up, XSET. It's not over yet. (Photo by Colin Young-Wolff/Riot Games)
Due to OpTic's win, they're heading to the upper final to face LOUD. Despite being two teams from different regions, it'll be the fifth time this year the two face each other. But out of those four matches, LOUD have only won once.
"[We're] definitely confident playing against them but at the same time this is a new tournament," FNS said. "But obviously they've improved a lot, they've beaten all the good teams to get here. They beat teams that we didn't think they were going to beat. Both times I thought that they were going to lose in the upper bracket and they won both times to make it here."
"I just love the fact that we've both been so consistent this year," he continued. "Both of us keep meeting up with one another and I think that kind of says something on its own about how consistent both teams have been. We consider them friends, but definitely more than that, we consider them rivals, so it'll be a good game."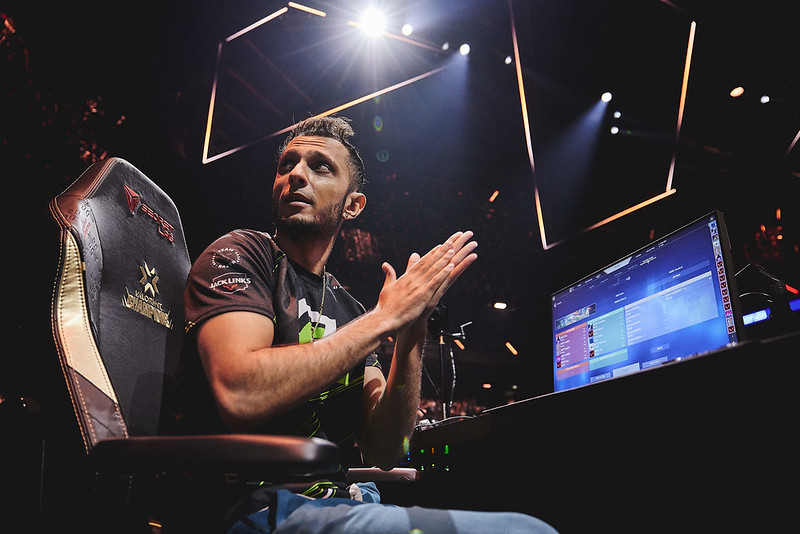 Trust in FNS' calling got OpTic to a third-straight upper final (Photo by Lance Skundrich/Riot Games)
Looking Ahead
Champions 2022 goes back to the lower bracket tomorrow. Yesterday's winners — FunPlus Phoenix and FNATIC — return to the stage to face today's losers — DRX and XSET — in the second round of elimination.
Tomorrow's games are: